Product Description
The Hudson is an award winning helmet that delivers that Bern low-profile styling in a lid that meets the new NTA 8776 safety standard. Translation … this thing is rated up to 27mph, meaning you're covered whether you're hopping on an e-bike, a scooter, or any other juiced up ride. More protection, less bulk, and added visibility with a snap (literally) using our integrated click-mount light. Call it micro-mobility, electro commuting or COMMON. DAMN. SENSE. Stay out there with the helmet that keeps you looking good and feeling safe on your next e-whatever adventure.
-Features-
Compass Fit
Find your perfect fit with our compass fit system. Simply twist the dial to adjust to your custom fit, keeping your head snug and secure. Due to its light weight, this system will feel as if the helmet were custom made for your comfort.
Integrated Light
Bern's custom-integrated LED light is lightweight and easy to use. This light brings ~6.6 lumens, micro-USB rechargeable, lasts up to 10 hours, water resistance, and has three light settings (steady, flash, and pulse). Simply click in place and ride on. Clickmount light included with Hudson model and sold separately for the Watts 2.0
MIPS
Multi-Directional Impact Protection System. Designed to protect against rotational violence to the brain caused by rotational impacts.
U-Lock Vents
Use these U-lock compatible reinforced vents at the back of the helmet to keep your helmet secure when it's not on your head.
Safety
MIPS
While the standards address force sustained in direct impacts, the Mips component is tested to help reduce your brain's internal rotational motion in an impact, the types of injuries that can lead to concussions. During an impact, the Mips low friction layer allows the helmet to slide 10-15 millimeters in all directions, reducing some of the rotational motion to the brain vs. helmets without Mips.
NTA 8776
Developed by the Netherlands, the NTA 8776 standard evolved from EN 1078 to address the emergence of e-bikes and potential for higher speed impacts. This standard follows the same safety metrics but NTA 8776 differs with an increased surface area for direct impact testing and a lower allowable threshold of impact transference to account for bikes with auxiliary pedal assist (A.K.A. E-bikes) up to 45km/h.
| Fit Size | S | M | L |
| --- | --- | --- | --- |
| CM | 52 - 55.5cm | 55.5 - 59cm | 59 - 61.5cm |
| Hat Size | 6 1/2 - 7 | 7 - 7 3/8 | 7 3/8 - 7 7/8 |
MIPS Brain Protection System
Rotational motion can cause brain injuries. The low friction layer allows a sliding movement of 10-15 mm in all directions, reducing rotational motion to the brain during impact.
Customer Reviews
Write a Review
Ask a Question
Filter Reviews:
helmet
light
Bern
visor
head
back
Hudson
MIPS
safety
size
07/05/2022
Daniel M.

United States
Bern Hudson
The Bern Hudson provides good head protection and has MIPS technology for added safety.
06/18/2022
Patrick C.

United States
Comfort & Style
This helmet looks and actually feels nice to wear. I often forget that I am wearing it once I arrive at destinations- it is that comfortable. How they managed to tie in safety, style, and comfort is beyond me.
Glad to hear you're digging your Hudson Pat!! Stay Out There!
06/18/2022
Mark S.

United States
Quality commuter helmet
The helmet is a great value and shell. I purchased the white one and it fit very well. I does have a red light that I can charge , but I did have to add some reflector tape. My commute has a short run on a street with no emergency lane and folks drive 50 even tho it's a 35… But back to the helmet . Great build quality, the adjustment works great, the strap has a soft feel to it, it's not heavy at all, and the color finishing is excellent.
Hey Mark, Love to hear that you're loving the Hudson Helmet. Happy we can help keep you protected on your commute. Stay Out There!
06/16/2022
Andrew J.

United States
Awesome helmet
This is the most comfortable helmet I've ever worn. I have a huge head and awesome and trouble finding hats and helmets that fit in this work perfectly.
Hey Andrew, Thanks for your sweet review on the Hudson Helmet. Love to hear that you found this helmet comfortable. Stay Out There!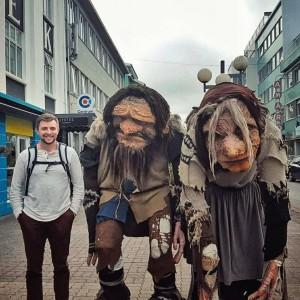 J
06/15/2022
Jesse

United States
Super cool lid
As a dirty Seattle hippie, I first heard about this helmet because my brother-in-law sent me a Bern instagram post about "going out for a bike ride" on 4/20. Since I was looking for a new helmet and the post made me laugh, I decided to check it out. My new helmet is great! I use it riding my e-bike and it feels super secure. The helmet itself is really comfortable and easily customizable to various sized heads. I love the light on the back, which keeps me from having to add my own. The style and look is really minimalist, in a good way, and doesn't make me look like I'm part of the middle-aged men wearing spandex crowd.
Hey Jesse, We love to hear our Instagram post influenced you to check out the Hudson Helmet. Even better that you're enjoying the lid and staying out there. Enjoy!